As the story goes, some years ago, a mighty hurricane blew in from the Atlantic, made a direct hit on the Palm Beaches, picked them up and deposited them across the state at the edge of the Gulf of Mexico, stripped of some of their conspicuous gaudiness. And they called the new town Naples.
        Make no mistake about it, Naples does have its gaudy side. As your editor returned from dinner one evening on Naples' main thoroughfare, the Tamiami Trail (Highway 41), about a half million dollars of automotive machinery whizzed past in tandem –- a brand new white Ferrari followed directly by a new dark blue Bentley. It seemed the Bentley was trying awfully hard to keep up with the Ferrari.
        But those with an eye on Naples need not try too hard to keep up with the Ferraris…or the Joneses. Naples offers real estate to suit every interest and bank account. Out in the area of Interstate 75, only five or six miles
This was a first; a half million dollars of automotive machinery passing me on the road.
east of the heart of Naples, you might think you were in Myrtle Beach or the Lauderdales –- without the traffic. I stayed the week in a condo at Heritage Bay, a sprawling community developed by Lennar, and was matched up there for a round of golf with a former Marine from Minnesota. He spoke enthusiastically about Heritage Bay's 27 holes of golf, humongous and lavish clubhouse, and the $200,000 he paid for his home, full golf club membership included.
        After spending a week in the Sarasota/Bradenton area, where there seemed to be life in the downtown areas and suburban town centers, Naples seemed a tad quiet, except for Saturday night at a sleek new shopping center called the Mercato, where lively crowds filled a few restaurants, especially one called the Blue Martini, which was standing room only. The Mercato must provide quite the scene when the snowbirds re-migrate in November.
        Inveterate shoppers will find a dizzying selection of shops in the Naples area, with more than 30 shopping centers offering everything from pricey antiques to the ubiquitous Walmart. If you have time for just one area, choose Naples' Fifth Avenue, a banyan-lined street of galleries, wine stores and clothing shops just steps from the beach.
Naples real estate finding its way back
        The fact these stores are open and thriving shows how far the area has come since the devastating housing market crash locally in 2007. Except for Las Vegas, Phoenix and Miami, Naples was probably hit the hardest of any metro areas in the U.S. Real estate prices have now rebounded from a more than 60% loss to about the 35% mark, where the market stood in 2002.  Many bargains across all price ranges and lifestyles are still available, but Naples real estate professionals report increased buying activity. One anomaly about Naples: Real estate prices sunk dramatically lower than did membership fees at the local private clubs. Naples-area joining fees and dues are expensive in relation to the real estate prices. You can buy yourself a condo in the $100s in a nicely amenitized development, for example, but in some cases expect to pay $25,000 or more for golf initiation fees. Of course, Florida golf clubs must maintain their premises for use 365 days a year.
        High golf fees combined with low real estate costs is actually a better deal than the opposite. As we've preached before, look to the entire cost of living when choosing a place for relocation, not one component like real estate or membership costs. In Florida, the lack of an income tax for many retirees makes the medicine of higher golf fees go down a little easier, and the entire cost of living assessment in Florida is no larger than in the Carolinas and other retirement hot spots. Depending on how you choose to live, Florida can be significantly cheaper.
        In visiting golf communities in Naples, we tried to cover the waterfront –- well, not literally the waterfront, since most of the waterfront is festooned with high rises and other developments. No golf courses in Naples are actually on the Gulf. The closest we got to the Gulf of Mexico on a golf course in Naples was at the Audubon Golf Club, one of the few west of the Tamiami Trail. Club members in our foursome proudly pointed beyond a four-story building a half-mile away to say it was "a few blocks from the beach." But, in reality, the beaches are within easy reach of any part of Naples, even from the "other side of the tracks" just beyond I-75.
        Here are five well-regarded golf communities in Naples that represent a range of locations and prices. The golf club at Olde Cypress, in one of the communities we planned to visit, was being completely renovated during our visit; we hope to play it at a later date. For a roster of current golf homes for sale in Naples, please visit GolfHomesListed.
Heritage Bay
        After some financial difficulties resulting from the housing crisis, the Lennar development company is back with a vengeance, pushing its successful formula of high-end amenities and low cost homes. At Heritage Bay, a few miles east of Interstate 75, we found the 27 holes of golf a pleasure, if not a great challenge, the kind of golf course one could grow old on. (Although it would take us a little longer to get used to warming up on the "aquatic practice range" with balls that float.) Real estate is a relative bargain at Heritage Bay, with condominiums starting in the $100s. Estate homes range from the low $400s and look out across the "bay" that gives Heritage Bay its name, but it is really more like a big round lake. Lennar "bundles" club membership with the price of the home, making the golfing lifestyle in a new condo well within the reach of "snowbirds" who intend to use their Naples home for half the year. The big clubhouse is large and lavish, and our lunch in the grill was as good as it gets. We found the greetings from the guards at the iron-gated entrance to be charmingly inconsistent. After recognizing us over a couple of days, the day guard engaged in jokes and waved us through. His colleague at night asked for our driver's license –- even after recognizing us. Residents should be pleased with his diligence, if not his humor. For a few sample listings of golf homes for sale in Heritage Bay, click here.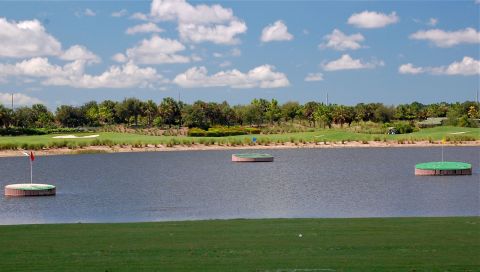 All Wet:  The practice range at Heritage Bay uses floating golf balls.
Imperial Golf Club at Imperial Estates
        In the scramble to one-up their competitors, many golf communities lard on additional amenities that have nothing to do with golf. But fitness centers and pools, for example, are expensive to maintain and staff, and they add to club dues and HOA fees. Imperial is proud of its status as one of Naples' few golf-only private clubs, and with a $10,000 joining fee and annual dues under $7,500 for a family, it offers an excellent buy in golf club membership for 36 holes of stellar golf (18 by Arthur Hills, 18 by Ward Northrup redesigned by Chip Powell in 2001). Imperial's impressive clubhouse, which sits at the club's highest point, was built in 2001, but the cost of the construction has not set back the club financially; the club's marketing materials show clearly that cash on hand is more than $1 million in excess of debt. Because the surrounding community is a mature 40 years old, real estate prices in Imperial Estates are exceedingly reasonable, with nice condos starting in the mid $100s and single-family homes in the $300s.  Check out a few golf homes for sale in Imperial Estates by clicking here.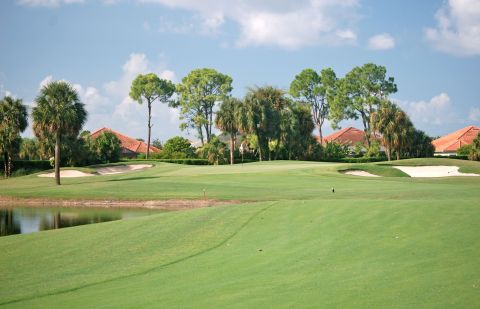 Some of the greens at Imperial Golf Club have enough elevation to keep the views of nearby homes to a minimum.
Audubon Country Club
        Audubon is proud of its status as "The only gated Gulf Side Country Club in all of Naples." It is also among the most northern of Naples' golf communities, putting it as close to Bonita Springs as it is to Naples, and making the trip to the international airport in Ft. Myers a pleasantly short jaunt. The club is member owned and also proud of its debt-free status. The 35,000 square foot clubhouse has a pink flamingo colored exterior that dominates the vistas from many points on the golf course. A variety of membership plans, including equity and non-equity programs, are available and provide access not only to the Joe Lee designed golf course, but to eight lighted Har-Tru tennis courts, casual and fine dining rooms, fitness center and two "tournament rated" croquet courts. The community's 750 acres comprise both condos and single-family homes, the former starting in the $400s and the latter ranging from the $600s to more than $3 million. And "Audubon" is not just someone's idea of a good name for a golf community; the golf course is one of 800 worldwide with the designation as an "Audubon Cooperative Sanctuary." We list homes ranging from $499,000 to $2.3 million at GolfHomesListed.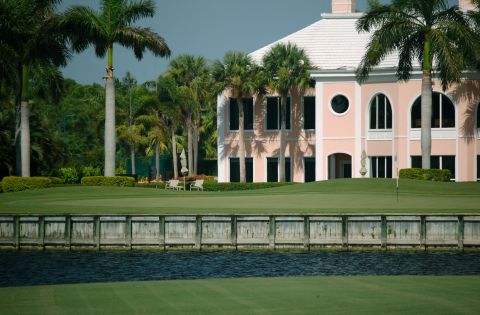 Hit the green with your approach on the 18th at Audubon, and you can reward yourself with a cool one in the pink flamingo colored clubhouse.
Mediterra
        You get a sense of the precision (and exclusivity) with which The Club at Mediterra delivers services to its members when you read the fine print on the scorecard for its two Tom Fazio golf courses: "The Club has established the maximum pace of play for the North Course at 4 hours, 10 minutes; for the South Course at 4 hours, 5 minutes." That sent us to the calculators to compute that the time difference, per hole, between the two layouts is a mere 16 seconds. Mediterra certainly sweats the details in behalf of its members, whether it is scrupulous background checks on those who apply to join the club or the pristine set of bocce courts sitting below the lush Piazza (clubhouse) and sharing space with seven Har-Tru tennis courts, a fitness center, spa, outdoor heated pool, a room for social gatherings. We were especially impressed with the location of the "Bocce Bar," beside the courts.
        Mediterra's near-death experience under its former parent, Bonita Bay Group, which continues to be dogged by litigation with its own members, led to Mediterra's members buying their club and injecting additional capital into its operations. But it also sent the club's governors on a hunting expedition for someone with experience and big name recognition to run things. They found it in Tom Wallace, who guided the famed Oakmont Country Club through U.S. Opens and course renovations. Wallace is now Mediterra's CEO and General Manager.
        Everyone who buys a home in Mediterra –- prices start around the $500s -- is required to sign-up for at least a social membership at a charge of $2,900 annually, which provides dining privileges year round at the clubhouse and full beach club privileges from Easter through mid-December –- but no golf. Full golf membership is a non-refundable $100,000, but with 36 holes of impeccably conditioned Tom Fazio golf that you can play every day of the year, that does not seem unreasonable for one of exclusive Naples' most exclusive golf communities.  For samples of golf homes for sale in Mediterra, click here.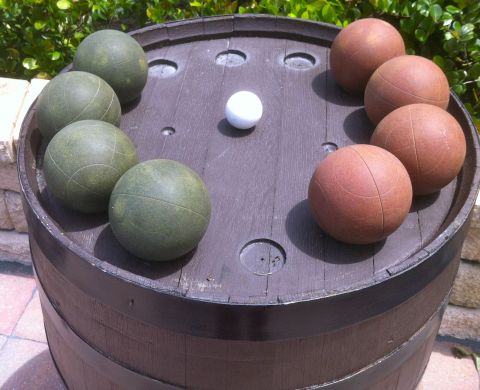 Even the barrel that holds the bocce balls at the fastidious Mediterra seems perfect suited.
Vineyards
        You have to admire any community that fully discloses its membership fees publicly, as does Vineyards, one of Naples' multi-golf-course communities. The club's four levels of membership span a full range of options, from full-family golf at $35,000 (tennis comes along with it) to a social membership at $3,000 (pools and fitness center available, tennis extra but no golf permitted). Dues for full golf are $8,350 annually. The 38 neighborhoods inside the guarded gates of Vineyards, just east of Interstate 75, comprise just about every type of home option, from condos and coach homes in the $100s to single-family estate homes well into the millions. Former PGA tour player Mark McCumber designed the North Course and Bill Amick, a well-respected golf architect, the South Course. Both are kept in impeccable condition. The 70,000 square foot clubhouse is among the largest we have ever visited, dwarfing the club's large free-form pool and heated spa. Physicians Regional Medical Center, a 70-bed longstanding hospital, is adjacent to the community.  You will find a sample of golf homes for sale in the Vineyards by clicking here.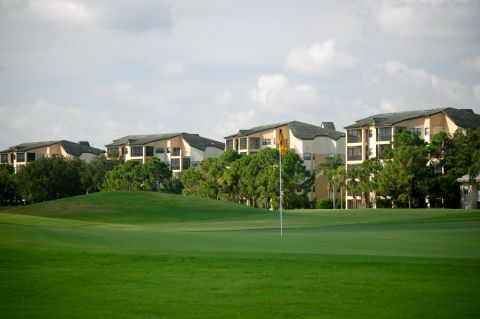 Condos at Vineyards are well back of the field of play but afford nice views of the golf course.
*
        If you would like more information about Naples golf homes for sale, please take a look at our properties for sale at GolfHomesListed, or contact us and we will be happy to discuss the many options available to you along the Gulf Coast of Florida.