In August, median home prices in the Naples area rose for the 14th month in a row, hitting the $229,000 mark, up from $175,000 in December 2011. The supply of homes for sale under $500,000 in August, 3,225, was significantly lower than in August 2012, when there were 4,151 for sale in that price category. For homes listed at $2 million and above, sales increased a robust 30% year over year in August. And the average time homes spent on the market before they sold dropped by 12% from August 2012 to about the five-month level. That is making sellers feel a lot happier and potential buyers feeling a little more of a sense of urgency.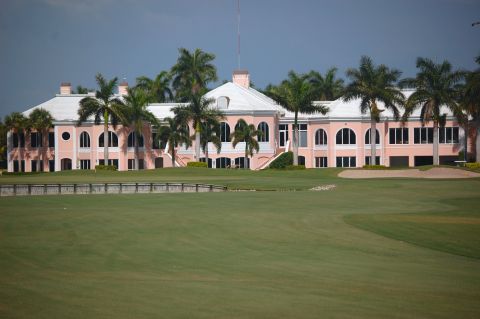 Pretty in Pink: Naples Audubon Country Club golf community features a dramatically colored clubhouse, a beautifully landscaped course and nicely decked out homes.
Local real estate officials believe that the lower inventory and increasing prices are responsible for a better than typical summer sales season. It takes some sweat equity, literally, to look for homes during August in southern Florida, but apparently potential buyers looking for the warmest possible winters are feeling the heat to make their moves now.
The Naples market offers a surprisingly wide range of golf community options, including some lower priced ones, especially for condominiums. We are currently listing homes for sale in six of Naples' finest golf communities, including Heritage Bay, where condos begin at around $165,000 and the golf course, which we played, is fun and challenging, especially when the breezes kick up; Audubon Club, whose iconic pink and white clubhouse is in almost constant view from the Joe Lee golf course (homes priced from the $500s); and the upscale Mediterra, with amenities that include two Tom Fazio golf courses and an immaculately dressed out bocce court, and homes that are priced as high as $5 million (but with some fine homes around $600,000).
Please check out our listings of current golf homes for sale in Naples by clicking here. Any questions? Please contact me.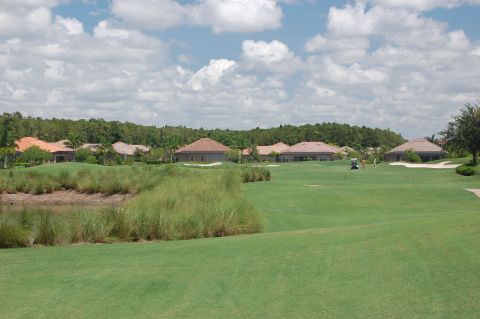 Heritage Bay is about 20 minutes from the beaches, but the Gulf breezes can add to the fun on the smartly laid out golf course. Adjacent real estate runs the gamut from condos (starting around $160,000) to villas to single-family homes.