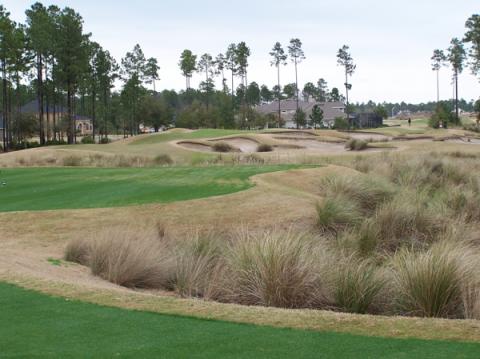 From both a visual and shotmaking standpoint, Arnold Palmer's design at North Hampton is one of his best.

A builder at the North Hampton Club, a community on the outskirts of Jacksonville, FL, is rolling back prices to pre-2007 levels. The email I received from ICI Homes Express indicates savings are as much as $70,000, or 35%.
North Hampton is part of the portfolio of LandMar communities, which includes Osprey Cove in St. Mary's, GA, Sugarloaf Mountain in Florida, and a number of others. If you own a home and golf membership in one LandMar golf community, you have access to the other LandMar courses, as well as those in the Crescent Communities group.
North Hampton, which I visited a couple of years ago, includes a fine Arnold Palmer links style course, one of the best Palmer courses I have played. Click here for a previous article about the golf course and community. In addition to the reduced prices, North Hampton is offering free initiation fees for the golf club (a $6,000 value) and help with closing costs. Some lake, golf and marsh view home sites are still available.
If you want more information or a contact at North Hampton, send me an email (use the Contact Us button above) and I will respond quickly.