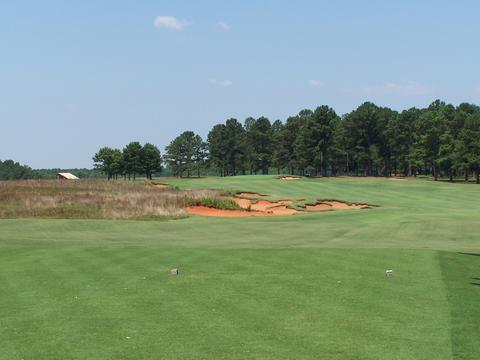 If Coore & Crenshaw can replicate at the new Sugarloaf Mountain in Floride their masterpiece at Cuscowilla, whose bunkers are both classic and colorful, then "free" membership could be the real deal.
As the housing market, especially the new construction part of it, continues to weaken, builders are trying just about everything to move product. We've noted that Hovnanian and other national companies have resorted to deep discounts on homes already built, and almost all builders, including the local ones, are throwing in extras like high-end appliances and plasma TVs just to provide enough incentives to attract buyers from an ever shrinking pie.
Now the LandMar Group, which builds communities primarily in the southeast, is offering "Founding Family Incentives" for anyone who purchases a home site at the company's Sugarloaf Mountain development near Orlando. LandMar, which is headquartered in Jacksonville, is offering a 15% rebate on home sites and a choice of either an additional 10% rebate on the cost of a home site - if you build within two years of purchase - or a free upgrade to full golf membership, an $8,000 value. An Associate Golf Membership fee, typically $12,000, has also been waived, meaning that if you opt for the $8,000 upgrade, the golf initiation costs nothing. Founding families will also be memorialized in some "permanent place" in the community, presumably a plaque in the clubhouse.
The golf deal seems particularly interesting since the course, set to open next year, is a Bill Coore/Ben Crenshaw design, and most of their courses are celebrated in golf design circles. Their Cuscowilla course in rural Georgia is a classic, characterized by red bunkers (from the mix of clay and sand), fairway bunkers fringed with natural grasses, and an immensely fair but challenging layout. It is also fairly flat, which the course in Florida is likely to be, despite the "mountain" in the community's name. The only mountains in central Florida are at Disney World, and they aren't real either.
Looking for a home in the Orlando area, or anyplace else in the south? Let us know and we will put you in touch with a real estate broker who can show you communities that best fit your lifestyle, and your game.