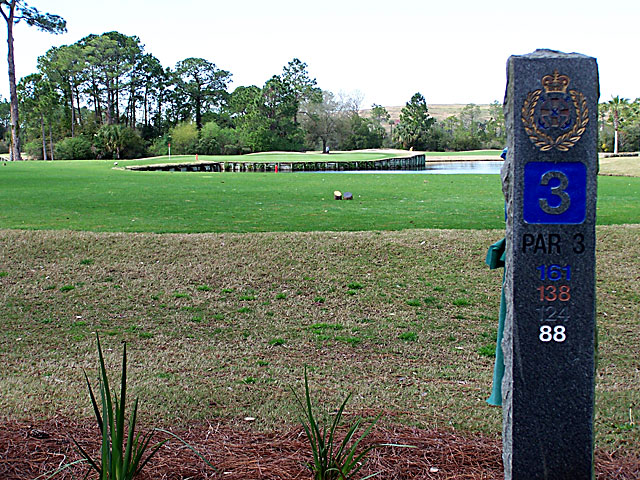 Par 3s at Queen's Harbour aren't long, but don't be short.

Golf is not first in the club's name, but the course at Queen's Harbour Yacht and Golf Club is very good. The Mark McCumber layout has its peculiarities -- for example it sets up much better for the player who draws the ball than the one who fades -- but it is a fair test, not easy by any means, but if your mid irons are working, you will score well. And Monday through Thursday, the course is available to outside play for the ultra-bargain price of $49.
We will have more to say about Queen's Harbour in coming weeks here and in HomeOnTheCourse, our advisory newsletter, but for the moment I want to thank the three Florida guys who put up with my erratic play and frenetic picture taking. Ed and Chris are from Orlando and Kyle is a superintendent at the Hale Plantation in Gainesville and a graduate of the University of Florida's turf management program. He wore his Gators hat proudly, and his golf bag bore the university's name and logo. Must be nice to be an alum of a school with a national basketball championship. (Nice to have his good golf swing as well.)
Thanks to the guys and to Jon Kitchen, director of golf and general manager at the club for making my arrangements (and for his understanding why I needed to pay for my greens fees, as I do everywhere I play; objectivity has its price).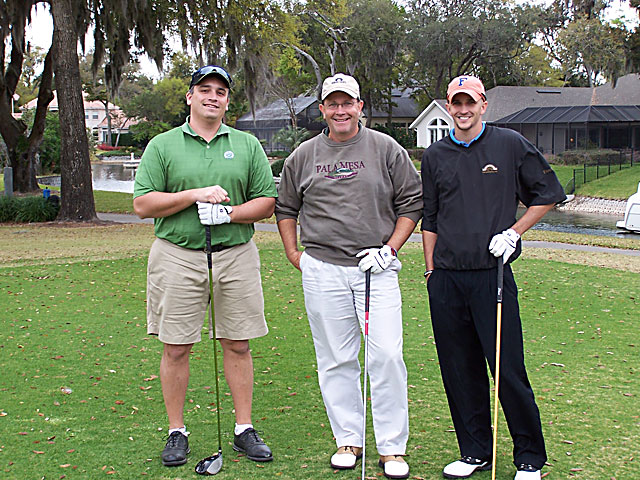 Left to right: Chris, Ed and Kyle rounded out my foursome.