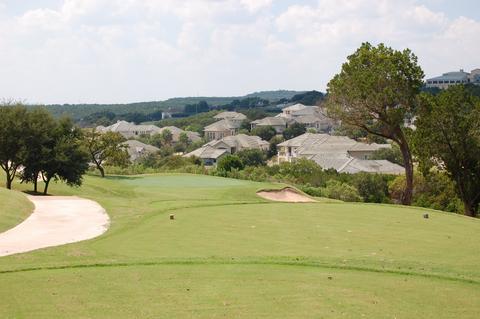 Thankfully, tee shots on the par 3s at River Place, like the 16th, are not blind.
Blog visitor and friend Bill Field left a comment suggesting I should eat at County Line Barbecue while I am in Austin, He is a mind reader. I ate there yesterday afternoon after a terrific visit to the University of Texas Golf Club at Steiner Ranch. Although County Line was virtually empty at 4 p.m., the kitchen performed as if it were Friday night. I ordered the 5 Meat Combo to sample as much as I could, and except for a heavy hand with the barbecue sauce poured over the meats, everything was spot on.
I've been on a brisket taste comparison this week, and County Line's was excellent, a little thinner cut than Bill Miller's but just as moist. It could have used a little more smoke, although under the spicy/tangy 'cue sauce, it might have been hard to discern any smoke. The meaty taste of the huge beef rib, though, came bursting through, as did the half rack of baby backs, which did have a little bit of smoke but not enough to hide the earthy taste of the pork. Hiding under everything, including the sauce, were a few generous slices of County Line's turkey breast, which took well to a slight dose of smoke and a hint of pepper. I took a bite of meat #5, a sausage, and decided to finish it only if I had any room left. I didn't.
Generous portions of cole slaw, potato salad and baked beans accompanied the meat, and all were first rate. The cole slaw was my favorite type, only slightly dressed, the taste of fresh cabbage the dominant note, not vinegar or mayonnaise. It was as close to cabbage-only as slaw gets, and with all the sauce on the plate, didn't need its only wetness. I tasted the potato salad, which was excellent and fresh tasting, but I knew I wouldn't have a shot at finishing the meats if I went further. The baked beans were another story; I am not a baked beans fan, but when I saw those shards of meat in the cup with the beans, I had to try. I finished them all.
For consistency of meat preparation, I give County Line my slight nod over Bill Miller's, although the brisket was a toss up. Tonight I took a break from barbecue and ate at the outstanding Asian restaurant Satay, where I had both a dish I always order, the coconut infused Tom Kha Gai (Thai chicken soup), as well as two I had not seen before. The appetizer, five jumbo prawns wrapped in rice paper, deep fried and served with a spicy peanut sauce, had crunch, a little fire and fresh seafood taste. Terrific. The entree, called Hok Mor, is hard to describe, a kind of curry souffle into which were buried shrimp, squid, a large mussel and some pieces of fish. It was unusual, tasty and forced me to order a second Singha, the excellent Thai beer. I may just go to Satay again tomorrow night; the menu is wide-ranging and interesting.
Okay, this is a golf blog site, so here are a few notes on the course I played today in Austin, River Place. It was originally designed by Tom Kite in the early 80s, then redesigned just three years later (with Kite's involvement again). The former University of Texas golf star apparently can do no wrong in the Austin area, but I found a few things wrong with the course, although not the views which were the best of the week I've been in town. First the positive: The course was in wonderful shape, the greens fast and perfectly smooth and very difficult to read. I had a half dozen putts inside 10 feet that I hit exactly where I wanted; they only broke when I thought they were straight, and vice versa. Homes are everywhere in sight but all are a long distance away and up a lot higher or considerably lower than the fairways. Remarkably for the area, I only spotted high-tension wires once or twice; at the excellent UT and Avery Ranch courses, they were all over the place. The River Place community was beautifully landscaped, the nicest I've seen, although I never saw the river (or Lake Austin, as it is called locally) from the course.
River Place offers some interesting holes, but I have a few gripes, one of which I will raise here. The par 5 13th is short, at just 476 yards from the Bronze tees (6,128 yards total, but a chesty 131 slope). I hit my drive down the middle but it did not roll far. At 230 over a pond to a green with a retaining wall in front, I decided to lay up. The GPS in the cart said 180 yards to the water; I hit 6-iron which, when I hit it properly, is my 165 club. I hit it properly, but when I got to the landing area, it was clear the ball had gone into the water because Tom Kite, or whoever, had seen fit to build a large hill from about 100 yards away from the green. My "safe" layup had hit the hill and taken off down into the water.
That is just bad design. You should never be penalized for a well-played layup shot. I would have had to hit 9-iron to have come up short of the water. Just silly.
Okay, with that off my chest, I must say that River Place did not live down to the beating it took from people I met on golf courses earlier in the week. Yes, it is a little wacky, and so many blind shots rob the golfer of one great treat of the game -- to see the result of a well-played stroke. But on the fairer blind-shot holes, I enjoyed the modest tension of not knowing where the shot wound up, and once or twice I was pleasantly surprised. I could see River Place growing on me if I played it a few times a week, but I could never grow to love the 13th.
River Place is an active country club with pool, fitness center, tennis and other activities you would expect. Full golf memberships are available at $10,000. Because the club is owned by the local Dominion Golf Group, members have full access to the well-regarded Onion Creek course south of town for just cart fee, and to the Dominion Golf Club in San Antonio for a modest surcharge. For membership info, contact Raquel Hebben at (512) 346-1114. The club's web site is at www.riverplaceclub.com.