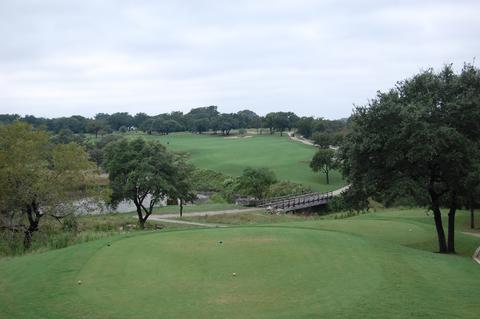 The uphill dogleg 7th is what a short par 4 should be -- challenging off the tee with a tough approach shot (see photo below).
Rain doesn't dampen experience at Avery Ranch

It was cart path only and water-filled sand bunkers at Austin's Avery Ranch golf course today after a night and morning of heavy rains. The course was very wet; that's the bad news. The good news is that only a few groups were out there, so I could savor a trip around a nice routing with many interesting views, some challenging shots and some brutal pin positions. And greens fees were incredibly reasonable at just $52, cart included. I'll report on the course in detail in an upcoming issue of HomeOnTheCourse, but here are a few highlights.
In launching me out onto the five-year-old routing, conceived by Nicklaus Design protégé Andy Raugust, the friendly starter Gil warned me to stay on the right side of the fairways on the front nine. The indigenous mesquite trees block shots that are just a little left of the fairways, and on the 2nd hole, after my slightly hooked drive ended up on the left edge of the fairway, I had to lay up and around the trees from 135 yards. Always listen to the starter.
I was struck by how many pin positions were tucked just over steep sand bunkers at greenside. On the very short par 4 16th, which plays to just 300 yards from the middle tees (6,229 yards overall), I had a lob wedge from 55 yards over a sand trap to a front pin position on an elevated green. I thought I hit the lob perfectly, and with spin. But the front pin was on a slope that tilted from front to back; my ball hit about three feet short of the pin and rolled 25 feet past. With a lob wedge! I suppose such short par 4s should be tough around the greens, but the positioning of a pin should never be such that birdie is impossible.
The greens at Avery Ranch were wonderful to putt if difficult to read. A few times I misread putts I was sure of when I lined them up. I thought the greens were a little slow. When I mentioned this in the pro shop after the round, the two assistant pros insisted the stimpmeter readings were around 10 and invited me to the 18th green for a test with the stimp stick. (They had some time on their hands because of the weather.) The reading was 9.6. Close enough.
Par 5s were all challenging and most required three good shots to get to the putting surface. The par 3s were all approachable and a nice variety of short (145 yards) and long (205 yards) from the middle tees. Of the testing par 4s, my favorite design was #7, an uphill dogleg left that played to only 360 yards from my tees. The drive needed to carry 180 yards to clear a ravine. Left of the fairway was wilderness stroke-and-distance territory, while a trap at the elbow of the dogleg 235 yards out was within reach. Good players would probably opt for 3-wood or less. Then the approach had to clear a creek, a rock wall and a bunker to get anywhere close to the pin. It was a wonderfully designed short par 4, one of many nice holes at the fine Avery Ranch Golf Club.
Avery Ranch Golf Club, Avery Club Drive, Austin, TX. (512) 248-2442. Black tees, 7,121 yards (recommended for 0 to 4 handicap players), 74.3 rating, 133 slope. Gold tees, 6,594, 71.8, 133. Blue tees, 6,229, 70.0,126. Ladies white tees, 5,724, 74.0, 135.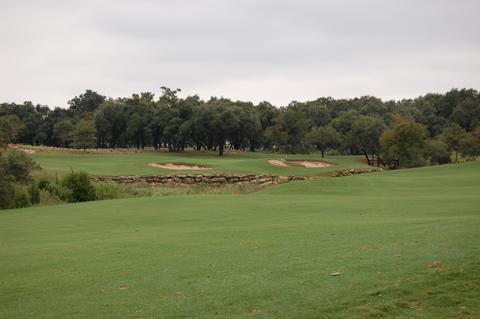 The approach at #7 at Avery Ranch is both intimidating and exhilarating.
Footnote to those who care about my Texas barbecue obsession: Tonight I sampled the smoked brisket from Bill Miller's in Austin, with a side of cole slaw (just mediocre, a little too shredded and a little too much vinegar). The brisket was terrific in texture and taste, more moist than Rudy's brisket (see yesterday's post). Bill Miller's cows must really love their salt licks because the meat was saltier than it needed to be; the tasty, mild barbecue sauce that was generously spooned out for me would have been enough seasoning for the smoke and natural beefiness of the meat. On the other hand, the salt sure made the beer taste better. On my rating scale of 1 to 5, I give Miller's brisket 4 pigs (might have been a 5 if they had rationed the cows' salt licks). Yes, I know brisket does not come from pigs.

Comment
Be the first to comment