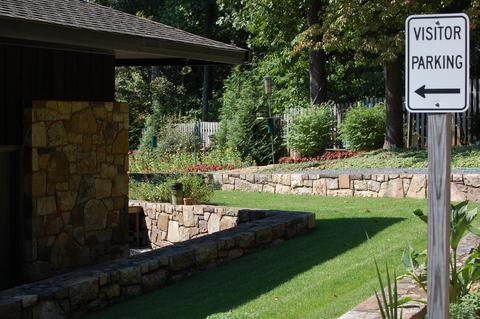 Long Hill co-proprietor George Kriz meets you in the parking lot for the walk behind the expansive house and past the flower and vegetable gardens that provide many of the raw materials for the inn's sumptuous breakfast.
Virginia's Long Hill does nice bed, great breakfast

It isn't exactly the stagecoach days of travel in the U.S., and our "horses" are under the hood, but without too much work, you can still find a welcoming inn for the end of a hard day of riding. The Internet search terms "bed and breakfast" or "B&B" combined with a particular town's name will yield a range of options for overnight stays. In our experience, a stay at a good bed and breakfast is more civilized and no more expensive than a night at a chain motel.
The operative word is "good." Some B&Bs are essentially people's homes with either a shared bath or one that has been squeezed into the corner of a bedroom. My wife and I were fortunate that the Long Hill Inn in the northern Virginia town of Winchester had a cancellation last Saturday night. We were on our way back north from dropping our son off at college in Lexington, VA. Faithful visitors to this space might recall my review of the excellent Winchester restaurant One Block West last week.
In the early 1970s, Rhoda Kriz and her first husband built Long Hill with more than enough room to contain their growing children and the occasional visitors; a folder with the history of the construction of the house is available in each of the home's five guest bedrooms. They built the house well back into the woods, more than a drive and 3 wood up a winding drive; Rhoda's current husband George listens for the alarm sent by the motion detector in the driveway, his signal to go meet the guests out in the parking lot.
After dropping our bags in our room, George invited us into the library where he and Rhoda were watching television while she knitted a sweater. My eyes immediately went to a table with a half completed jigsaw puzzle. The puzzle was vintage 1960s, and as I took in the rest of the room, I noticed dozens of other puzzles of multiple vintages. A jigsaw addict from the age of five, I was back home.
Other guests trickled in from their daytime excursions and dinners at local restaurants, one of them recounting the black bear he had seen on the Skyline Drive nearby. He sat down at the jigsaw table and we finished the puzzle together in animated conversation. Unlike at the chain hotels, where everyone seems to be in a hurry to get somewhere, you have a much better chance of striking up interesting conversations with fellow guests at B&Bs, some of the six-degrees-of-separation variety. One of our fellow guests, for example, had attended the same small college I had; his wife had been raised in the town adjacent to our current home in Connecticut. Another guest worked for a competitor of a company where I spent the majority of my business career. These personal connections are frequent at B&Bs and almost always elevating.
The Kriz's home, which has square angles and effects a Frank Lloyd Wright sensibility from the outside, is enormous, with an unusual amount of common space for guests. A recreation room on the lower floor includes a 20 foot long wet bar and a nicely conditioned pool table. A refrigerator is stocked with soft drinks and beer, complimentary to all guests. Upstairs on the first floor, we snuck a peek at the kitchen, the largest we had ever seen, some 40 feet long. The dining room, where we would take breakfast the next morning, was also oversized.
Our room, the Dogwood, was the first of five along a winding hallway, just off the atrium at the center of the expansive house. The room was comfortable and quite large and included a fireplace, windows with nice views onto the backyard and a firm queen-size bed. The large bathroom included his and her sinks and a nice-sized shower stall (no tub, but guests were invited to use the whirlpool midway down the hall). Above and behind our bed's headboard was a storage area that held four books of drawings by Norman Rockwell, perfectly appropriate. George also pointed out the "sound" machine that manufactures 20 different audible "distractions" for those, he said, who might want to drown out other noises. (His smile meant snoring, not crickets, and my wife was not pleased at my knowing sideways glance to her).
Such attention to detail is characteristic at Long Hill, and it shows up especially at breakfast. Rhoda had informed us the night before that breakfast in the morning would be at 9 a.m. We took that to mean that it would be available from 9 a.m. But as the clock struck 9, we heard George outside our door asking if we were ready; it's a good thing we hadn't decided to sleep in. By the time we made it to the dining room table, all the other 10 guests were seated and rarin' to eat. The family style breakfast started with a bowl of peaches and raspberries on the table, the raspberries from the Kriz's backyard garden. This was followed by a bowl of cut cantaloupe, also from the garden, and a bowl of homemade granola, all a mere warm-up for a large egg frittata made with other vegetables from the Kriz's garden, a creamy potato casserole, sausage and apple tucked into a small taco shell, a quiche and zucchini bread, both made with zucchini from their garden, and rashers of bacon.
The meal was topped off with a choice of four different flavored sherbets. Included in the incredibly reasonable $95 price for the room, this was the best "free" breakfast I have ever had at a B&B.
Between a stay with breakfast at Long Hill and dinner at the excellent One Block West, which I reviewed here last week, Winchester provides a satisfying stopping point just a few miles from Interstate 81 in northern Virginia. The Winchester area is host also to some interesting museums, antique shops and the scenic Skyline Drive. We look forward to many happy return visits on our drive south in the coming years.
Long Hill Bed & Breakfast, 547 Apple Pie Ridge Road, Winchester, VA. Toll free: 866-450-0341. Web: www.LongHillBB.com.

Oh yes, the golf

The closest course is Rock Harbor , just a few miles away from Long Hill. The 18-hole course was designed and built by Denny Perry, a local paving company owner, who draws water from his adjacent quarry to keep the Bent grass greens and fairways in nice shape. The course is a little weird in that it throws two par 3s in a row at you on the back nine, but such idiosyncrasies can have a rough charm to them when the course designer is a neophyte. Compensating touches are two 600-yard plus par 5s with water that runs the length of the fairways to the green, an island green on a short par 3, and the customary off-the-beaten-track green fees of less than $50 on weekdays (slightly more on weekends). Rating and slope are 72.1 and 127, respectively, from the tees at 6,700 yards. Rock Harbor's web site has a nice tour of the course with advice from pro Jerry Wampler on how to play it.
Rock Harbor Golf Club, 365 Rock Harbor Drive, Winchester, VA. (540) 722-7111. Web site: www.RockHarborGolf.com