This is going to sound like an advertisement for the Chamber of Commerce in Greater Hartford, CT, but it is really no more than civic pride in the area's golf courses, and recognition by your golf lifestyle correspondent that a couple could spend a good half year playing outstanding and inexpensive golf courses, and living fairly cheaply, especially if they spend a half year plus one day living in a lower-tax state. (I have some friends who live in Florida for the winter months and the Hartford area for the summer.) I live just outside of Hartford for most of the year, and even though my wife and I spend significant weeks during the summer in other places, I am thinking seriously about buying a one-year pass for 2018 at Keney Park, a municipal golf course owned and operated by the City of Hartford (more about costs below). The golf course's layout is the equal of any classic routing in the area and a rival even to Donald Ross designed courses in New England; and conditions, already good, just keep getting better every month.
When I first wrote about Keney here a year ago -- Keney Park Review -- I extolled the virtues of Devereaux Emmet's classic touches – he designed nine of the holes in 1927 -- and the careful and classy redo by architect Ken Dusenberry after conditions became virtually unplayable the decade before the renovations completed in 2015. The only blemishes I could see last year were the blemishes on certain fairways; the par 5 2nd hole, for example, featured a roped off area in the landing zone off the tee. I am happy to report that the roped area is now gone, the turf on all the fairways is solid, and only areas well out of play still need some cosmetic attention.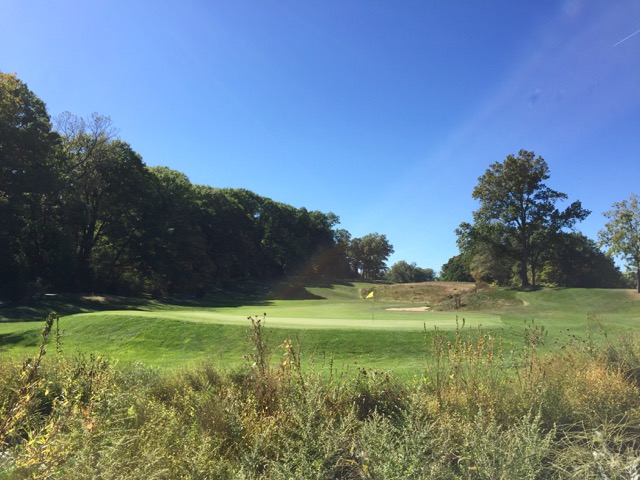 The par 3 11th at Keney Park is deceptive, downhill at just over 200 yards but with a wide open green. Like most greens at Keney, it is sloping and makes a chip shot to virtually any pin position a delicate chore.
The 80-year-old building that had been abandoned years ago has now been beautifully restored and houses the pro shop, a wonderful tavern restaurant and beautiful outdoor spaces for dining, drinking and gazing out on the golf course.
Although Keney would be my first choice for an annual membership in the area, two other more modern golf courses are rivals for attention, both with unique pedigrees and stories to tell. The muscular Gillette Ridge has a checkered history since it first opened to savage local reviews in 2004. (See my 2009 review of Gillette Ridge here.) As if thinking the public facility might host a PGA tour event someday, the Arnold Palmer design shop built a layout even the pros would hate. To say it was difficult would be to understate concrete hard greens set just beyond hazards, making it virtually impossible to play to even a 375-yard par 4 green in regulation. The rather meager attempts at maintenance early on, and the later engagement of a management company that ran the club into the ground even after the layout was softened significantly, resulted in the course closing for nearly two years.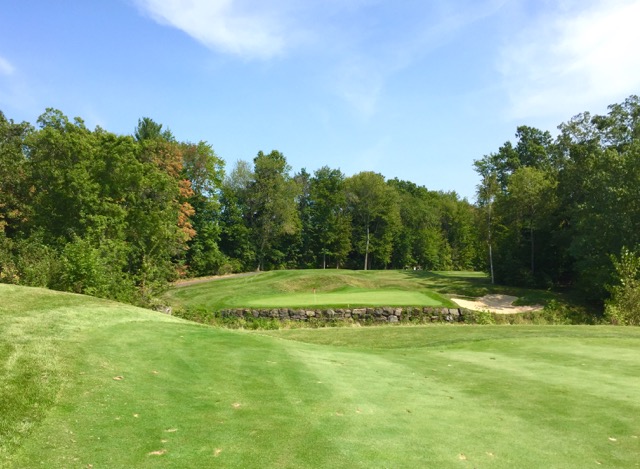 The approach to the relatively short par 4 5th at Gillette Ridge is do or die. When the course first opened, the greens at Gillette Ridge were extremely firm, making it nearly impossible to stop a ball on the green if it had a hazard in front (as a number of holes do). The layout has been softened considerably.
But with its reopening last year, Gillette Ridge has come a long way back and can take its place among the best public facilities in Connecticut. I played the course a few weeks ago and found it in nice shape, with friendly staff and an especially good deal for seniors. (My green fee with cart was just $29.) There remain a few holes that will challenge most player's notions of good design, but all in all the golf course is a lot of fun to play, and its setting in an office park is unusual. The Easter Island like sculptures beside the 16th fairway add a unique touch of culture as well.
Longtime architecture critic for Golfweek magazine, Brad Klein, did his hometown and the golfing public in the Greater Hartford area a huge favor when he invited Pete Dye to donate his services to reshape a piece of farmland in Bloomfield, just 20 minutes from Bradley International Airport. Dye hasn't designed many non-private, non-resort golf courses, and the fact he was paid a token $1 for Wintonbury Hills didn't keep him from crafting a spirited layout with deceptions on the "easy" holes and some muscle on the tougher ones. Town of Bloomfield residents get a break on green fees and membership, but both are reasonable, especially for the excellent conditions and a layout that lives up to the designer's reputation. (One minor gripe: Holes 1 & 2 and 10 and 11 follow the same pathways away from the clubhouse and are awkwardly similar, although wonderfully designed.) My original review of Wintonbury Hills is available here.
For couples or singles interested in the cheapest possible memberships, a move to the towns of Hartford, Windsor or Bloomfield should rank highly. The median price for listings of homes for sale in Bloomfield currently is $238,000; in Windsor it is $206,000. Inside the boundaries of the city of Hartford, median home prices are $135,000 which is a bit deceptive in that lavish mansions on the west side of town are averaged with modest dwellings in the inner city. However, a part-time couple might do well to investigate rental apartments; yes, you will pay for months when you will not be in residence but you will also avoid the state's generally high property taxes on real estate.
The costs of golf at the three clubs mentioned above are noted below for both resident and non-resident members.
Taking a Pass on an Annual Basis
The following are resident and non-resident costs for adult annual passes to Keney Park in Hartford and Wintonbury Hills in Bloomfield. Note that Gillette Ridge is not a municipal course and does not offer discounts to residents. Daily rates are based on 18 holes.
Keney Park, Hartford, CT
Non-Resident Adult Annual Pass $1,399
Resident Adult Annual Pass $1,025
Senior (62+) Resident Annual Pass $ 825
Senior Non-Resident Annual Pass $1,049
Adult Resident/Non-Resident $40/$30
Daily Green Fees (weekday)
Senior Resident/Non-Resident $21/$29
Daily Green Fees (weekday)
Adult & Senior Weekend Rates $32/$42
Resident/Non-Resident
Golf Car $18 at all times; pull cart $9
Wintonbury Hills, Bloomfield, CT
(Residents save $500 memberships that permit all week play; $400 on weekday play)
Annual membership for 7-day per week play
Single annual pass $3,150
Couple annual pass $4,400
Weekday only (5-day) pass
Single annual pass $2,000
Couple annual pass $3,200
Green fees at Wintonbury Hills average $60 weekday to $80 weekend, cart included
Gillette Ridge, Bloomfield, CT
Full Annual Membership
Individual (first 25 to sign up) $2,995
Family (includes children) $4,900
Cart fees, handicap service and range balls included with memberships